As keynote speaker Colin Moon gives you an insight into all aspects of cross-cultural business communication, from international leadership to cross-border teamwork.
Colin Moon is well-known for his unique, relaxed and humoristic style which adds a warm, personal element to conferences.

He is well-known for being humoristic and energetic, yet respectful and gentle. He gets his message across in an amusing way and audiences worldwide appreciate his sense of irony.

The content, format and style of Colin Moon's talks depend on the expectations of the audience, the event itself and the wishes of the organisers.

- The Swedes are strange … and so am I
Swedish business culture as seen from an international perspective – teams, alignment (förankring), processes and decision-making.

- Cracking the Nordic Code
The four business cultures in the Nordic area – similarities and differences which affect performance in a Nordic team.

- Cracking the Global Business Code
Global business communication – the key areas of cultural difference which affect overall performance.

Book Colin as Business Speaker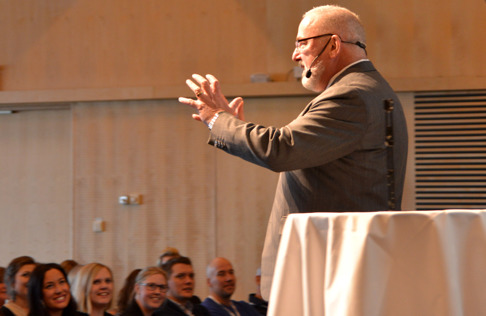 A few words from
satisfied clients
"Ett möte med Colin Moon är alltid lärorikt och underhållande på samma gång. Vid sina föreläsningar talar han gärna om kulturella skillnader i allmänhet och svenskar i synnerhet. Colin delar med sig av hjälpmedel och tips i hur man kan förbättra kommunikation över kulturgränserna. Åhörarna bjuds på ett smörgåsbord av förklaringar, tankeväckande och lätt provocerande tankar och tydliga exempel. Som talare är Colin underhållande och upplyftande. Han blandar humor med exempel från verkligheten och med fakta."

"International communications specialist Colin Moon is an author, business speaker and presenter. His lively discourses examine the challenge of clear communication across language and culture. Colin focuses on Swedes sometimes but other nationalities are not neglected in a series of gentle yet acerbic observations."

"Colin Moon is an experienced speaker on all aspects of international communication. His proven techniques, practical ideas and lively style have brought him success in both the private and public sector and in many fields of industry."