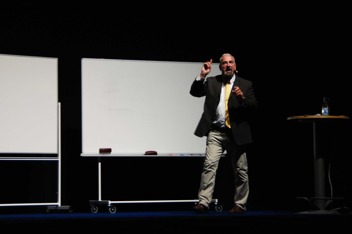 "Publiken skrattade tills de grät. Vi har aldrig haft en bättre föreläsare!"

"Vi är verkligen jättenöjda, det var inspirerande och roligt. Han var duktig på att belysa hur de olika nordiska länderna är och även hur andra europeiska länder ser på oss nordbor. De finska medarbetarna låg dubbla av skratt!"

"Helt fantastisk! Rolig, charmig, rätt nivå, fantastiskt bra!"

"Ett möte med Colin Moon är alltid lärorikt och underhållande på samma gång. Vid sina föreläsningar talar han gärna om kulturella skillnader i allmänhet och svenskar i synnerhet. Colin delar med sig av hjälpmedel och tips i hur man kan förbättra kommunikation över kulturgränserna. Åhörarna bjuds på ett smörgåsbord av förklaringar, tankeväckande och lätt provocerande tankar och tydliga exempel. Som talare är Colin underhållande och upplyftande. Han blandar humor med exempel från verkligheten och med fakta."

"International communications specialist Colin Moon is an author, business speaker and presenter. His lively discourses examine the challenge of clear communication across language and culture. Colin focuses on Swedes sometimes but other nationalities are not neglected in a series of gentle yet acerbic observations."

"Colin Moon is an experienced speaker on all aspects of international communication. His proven techniques, practical ideas and lively style have brought him success in both the private and public sector and in many fields of industry."

"Colin Moon ger initierade inblickar i interkulturell förståelse, kulturkrockar, kommunikation. Ingen kommer undan, alla utsätts för hans omfattande granskning och ifrågasättande. Men humor är A och O i Colins värld."

"Thank you so much. There has been a great deal of positive feedback highlighting your professionalism, knowledge and above all your charisma which made the day a most memorable one."